Mapping the Landscape of Higher Education in New York State Prisons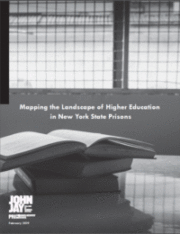 Mapping the Landscape of Higher Education in New York State Prisons
This report is the first of its kind in examining both the history and scope of college-in-prison programs across the state. The report describes the existing programs and incorporates the perspectives of DOCCS officials, college administrators, and incarcerated students.
The efficacy of college-in-prison programs in reducing recidivism is well documented; a study by the Rand Corporation showed that those who participated in correctional education programs had a 43% lower rate of recidivating than those who did not. Mapping the Landscape explores other benefits of college-in-prison programs, such as improving incarcerated students' relationships with their families and increasing safety in facilities for both students and correctional staff.
At its peak, New York State was home to 70 higher education programs in state prisons. The elimination of federal Pell and New York State TAP (Tuition Assistance Program) eligibility for incarcerated students in the mid-1990s, however, reduced the number of programs to just four. In the years since, institutions of higher education, DOCCS, private foundations, and incarcerated individuals have collaborated to create the impressive portfolio of college programs described in this report. In short, there are now 15 college-in-prison programs in New York State, which operate through partnerships with over 30 colleges and universities at 25 DOCCS facilities. Efforts to expand correctional higher education have also been bolstered by the Federal Second Chance Pell pilot program, the District Attorney of New York's Criminal Justice Investment Initiative (DANY CJII), and funds allocated by the State Legislature. But despite the progress that has been made, currently just 3% of the approximately 47,000 individuals incarcerated in New York State are able to participate in college programs.