Navigating Barriers to Opportunity
Higher education is the starting point for personal and professional success after involvement in the criminal legal system. It is nearly impossible to transform one's life after incarceration without access to an education. But while many New York colleges and universities have removed criminal record questions from applications, conviction history is still commonly used in decisions on housing, campus-based activities and services, and career opportunities. These policies—which create unnecessary barriers to achieving a degree, gaining practical work experience, and accessing student housing—have lasting consequences for individuals, institutions, and communities, exacerbating the economic disenfranchisement that follows contact with the system.
The Institute is at the beginning of a multi-year plan to address criminal records barriers on campus through two main objectives:
Increasing the capacity of students with past criminal legal system involvement to navigate background checks and barriers to education and economic opportunity.
Training campuses to minimize barriers for students and appropriately inform and prepare them when a criminal record poses future employment barriers.
Our goal is to increase opportunities for students with conviction histories to translate their higher education experiences into fulfilling careers and economic mobility.
Relevant Publications
The Institute developed the following publications to support people impacted by the criminal legal system in (1) obtaining professional and occupational licenses and (2) navigating background checks.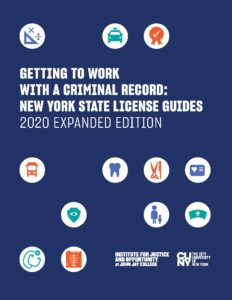 Getting to Work with a Criminal Record: New York State License Guides (2020 Expanded Edition) 
The New York State License Guides explain the process for obtaining licenses in 25, high-demand occupations and professions for people who have conviction records. These guides aim to dispel the myths and misinformation that may discourage people with convictions from pursuing employment and career pathways that are actually available to them. There is a common misconception that a conviction record makes licensing impossible; in fact, 86 percent of people with conviction records who applied for NYS occupational licensing in 2018 were approved.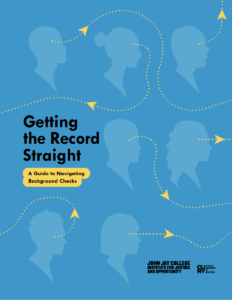 Getting the Record Straight: A Guide to Navigating Background Checks
This guide is designed to help people with conviction records navigate the individual, institutional, and systemic barriers erected by background checks. It is common for people to feel nervous or stigmatized when going through a background check. Preparing in advance can help the experience become less intimidating. This guide will help readers understand what appears on a conviction record, prepare for a background check, be ready to respond to questions, and more.