Getting the Record Straight: A Guide to Navigating Background Checks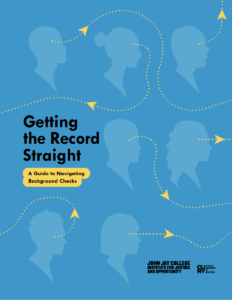 Getting the Record Straight: A Guide to Navigating Background Checks
Nationally, about 94% of employers and about 90% of landlords use background checks to evaluate prospective employees and tenants. The internet allows instant access to millions of databases containing conviction record information, making it easy for companies to get into the business of background checks.
This guide is designed to help people with conviction records navigate the individual, institutional, and systemic barriers erected by background checks. It is common for people to feel nervous or stigmatized when going through a background check. Preparing in advance can help the experience become less intimidating. This guide will help readers:
Understand what is on their record
Prepare for a background check
Know their rights
Be ready to respond to questions about your record
Be equipped to talk compellingly about themselves and their history
Please note: The guidance about city and state laws are specific to New York and may not be true elsewhere. However, anyone can use the general tips and guidance.