Tow Policy Advocacy Fellowship
The Tow Policy Advocacy Fellowship prepares John Jay College of Criminal Justice graduate students for careers in policy advocacy at the city, state, and federal level. Tow Fellows complete hands-on internships at advocacy-focused organizations in New York City, while taking relevant coursework to enrich their fieldwork experiences.
Funded by the Tow Foundation, the fellowship provides full in-state tuition remission for the fall and spring semesters and other benefits for Fellows. Beginning with an orientation in August of each year, the fellowship combines advocacy and academics to prepare the next generation of social justice policy advocates.
The Tow Fellowship application is available every spring. Following summer orientation, the fellowship runs the course of the following academic year (from early September to late May). The application for Fall 2023-Spring 2024 is currently closed and will reopen toward the end of the Spring semester.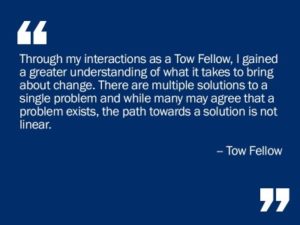 Advocacy
Fellows complete a nine-month internship with a dynamic policy advocacy organization engaged in cutting-edge social justice work in New York City, gaining real-world knowledge to supplement their classroom instruction. Our partner organizations range in size, scope, and approach, addressing a wide variety of social and criminal justice issues. Some past and current Tow Fellowship host sites include:
 Academics
As a complement to their internships, Tow Policy Advocacy Fellows also take a graduate-level practicum in public administration (PAD 814-816). The practicum is a two-semester, six-credit course designed to prepare Fellows for their internships. Through the Practicum, Fellows will develop an in-depth understanding of public policy and urgent social issues by integrating research methods, policy analysis, advocacy, and information technology. With this foundation, they will be able to confidently formulate and effectively communicate empirically valid policy analyses and arguments.
Course Modules:
Policy Analysis: Students will learn to define problems; establish evaluative and analytical criteria; develop feasible policy alternatives; project outcomes; evaluate programs; conduct cost-benefit analyses and trade-off assessments; and master statistical literacy.
Communication: Students will learn to write a policy memo/brief/report; master oral presentation skills; and formulate and deliver an elevator pitch.
Leadership and Social Change: Students will develop a capacity for leadership that is attuned to group dynamics, skilled in overcoming pitfalls of collaborative work, and focused on achieving short- and long-term goals while they undergo training to identify and overcome common obstacles to policy change.
Political Awareness: Students will engage in stakeholder analysis, political feasibility assessment, and power mapping.
Research: Students will find, collect, and analyze high-quality data for advocacy; assess the impact and outcome of their work; master qualitative data skills such as interviewing, survey writing, and conducting focus groups; learn quantitative data skills such as administrative data management and analysis and descriptive and basic inferential statistics, and engage in multi-method research design.
Eligibility Criteria
To be eligible for the Fellowship, applicants must:
Be graduate-level students at John Jay College for the entire academic year of the fellowship
Have at least a 3.2 GPA
Demonstrate a commitment to social justice and policy advocacy
Intern at a Tow Fellowship partner organization for 14 hours per week throughout the academic year and participate in the required course each semester (PAD 814-816)
Be present for monthly development workshops throughout the academic year
Compensation
Applicants who meet all of the requirements detailed above and are accepted to the fellowship will receive:
Full in-state tuition remission for John Jay courses taken while participating in the fellowship. Please note: Tuition remission is applied at the in-state rate for each Fellow's respective degree program. Fellows who pay out-of-state tuition are responsible for paying the difference between the New York State resident rate and the non-resident rate in their degree program.
A stipend of $2,000 to cover fellowship-related expenses.
Meet Past Tow Fellows
Click here to learn more about past and current Tow Fellows.