Now Available — Getting to Work with a Criminal Record: New York State License Guides (2020 Expanded Edition)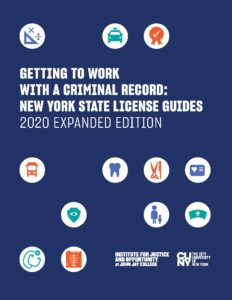 Getting to Work with a Criminal Record: New York State License Guides (2020 Expanded Edition) 
The New York State License Guides explain the process for obtaining licenses in 25, high-demand occupations and professions for people who have conviction records.
These guides aim to dispel the myths and misinformation that may discourage people with convictions from pursuing employment and career pathways that are actually available to them. There is a common misconception that a conviction record makes licensing impossible; in fact, 86 percent of people with conviction records who applied for New York State occupational licensing in 2018 were approved.
These guides update and expand our first edition released, which was released in 2018 and included 10 occupations. We selected an additional 15 occupations and professions based on interest from people with conviction records and input from many professionals in the workforce development field, and by evaluating labor market data to determine growing sectors and jobs that have licensure restrictions.
The guides are designed specifically for:
Anyone with a conviction record who is interested in pursuing a license in any of the 25, high-demand occupations and professions.
Workforce development providers, academic advisors, faculty, and other human service professionals who help people find jobs and explore education and career options.
Lawyers and other human services providers who are seeking quick answers for their clients.
Click here to view the guides.
If you'd like to order a physical copy of the guides, fill out an order form here.