License Guides Order Form
Getting to Work with a Criminal Record: New York State License Guides (2020 Expanded Edition).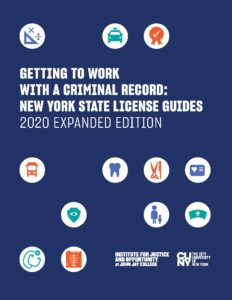 The New York State License Guides explain the process for obtaining licenses in 25, high-demand occupations and professions for people who have conviction records. These guides aim to dispel the myths and misinformation that may discourage people with convictions from pursuing employment and career pathways that are actually available to them. There is a common misconception that a conviction record makes licensing impossible; in fact, 86 percent of people with conviction records who applied for New York State occupational licensing in 2018 were approved.
These guides are intended to encourage workforce professionals, university administrators, and other gatekeepers to support people with convictions in pursuing the jobs and careers they seek.
We have a limited number of physical copies available. Please fill out the form below to request printed copies of the License Guides. Please note that we will not begin mailing copies until we are able to return to our office in accordance with NYS PAUSE.