Three Quarter Houses: The View from the Inside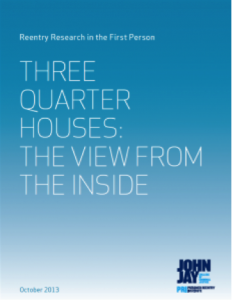 Three Quarter Houses: The View from the Inside
"Three Quarter Houses: The View from the Inside" is the first systematic and comprehensive study of Three Quarter Housing in New York City. The problem of housing New York City's most vulnerable individuals has given rise to a growing market of privately operated, for-profit residences known as Three Quarter Houses, which have become an informal extension of the City's apparatus for keeping vulnerable men and women off of the streets. Yet these residences lack any formal regulation or oversight, rendering the houses invisible to most citizens and policymakers.
The report's findings are based on 317 known addresses and first-hand accounts of 43 current or recent residents of the houses. The report paints a harrowing picture of the conditions in these dwellings. The residents tend to be in the midst of major life transitions; most are returning home from jail or prison, recovering from short-term hospital or residential substance abuse treatment, battling with street homelessness, and/or struggling with unemployment, family crises, or medical issues. The houses are overcrowded, lack basic fire safety and health provisions, and are exploitative of their residents. Still, thousands of New Yorkers rely on them, prefer them to shelters, and desperately do not want them closed. The findings of PRI's research on Three-Quarter Houses are troubling indications of what occurs when the city's poorest and most marginalized individuals are left with no affordable or accessible housing options and must instead fend for themselves in an unregulated, informal housing market.
The research was carried out by PRI in collaboration with MFY Legal Services, Inc., Neighbors Together, the Legal Action Center, and the Three-Quarter House Tenant Organizing Project, with technical assistance from the Furman Center of Real Estate and Urban Policy.