Getting to Work with a Criminal Record: NYS License Guides
Getting to Work with a Criminal Record: New York State License Guides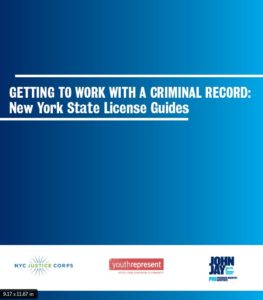 There are many obstacles for people with past justice system involvement, especially in navigating barriers to employment. This series of License Guides serves to support justice-involved individuals and advocates navigating the licensing process for 10 occupations in New York State. Developed in partnership with Youth Represent, PRI's License Guides include a comprehensive and accessible overview of the licensing process for each occupation, as well as a glossary of key legal terms and information on additional resources.
With the License Guides, PRI and Youth Represent combine their knowledge of workforce development and New York law, respectively, to support access to in-demand occupations for people with criminal justice involvement.
The License Guides were made possible with support from the NYC Young Men's Initiative and the Mayor's Office for Economic Opportunity.
For a printable and downloadable version of the set of License Guides, click here.